TMD/TMJ
TMD or TMJ refer to problems with the joint connecting your jaw and skull. Like other joints in your body this joint can become swollen through abuse or damage through trauma such as sports accidents, clenching or grinding. If the joint is damaged or simply out of alignment symptoms can persist ranging from clicking and popping to debilitating pain including headaches, ear, neck and back pain. Therapy is conservative at first utilizing exercises, stretching or use of a therapeutic and protective oral guard. In severe cases medications for pain, muscle relaxation, and stress management may be necessary. If left untreated these conditions may cause irreversible damage.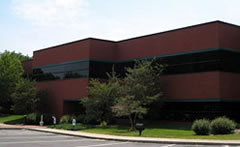 Joseph Tutor, DDS
West Taft Medical Center
4820 West Taft Road, Suite 101
Liverpool, NY 13088
Get Directions »
T: (315) 451-4900
F: (315) 451-6192
Office Hours:
M - Th 8:00 a.m. to 4:30 p.m.
Summer Hours (June-August):
M - F 7:00 a.m. to 2:00 p.m.
Request an
Appointment