Crowns & Bridges
Crowns are a long term means of rebuilding teeth that are overfilled, broken or just plain ugly. Crowns are fabricated by our lab from impressions taken of your teeth and can be make of gold, porcelain or zirconium. Think of it as replacing all five surfaces of the enamel on your tooth. Bridges are a way of replacing missing teeth by crowning teeth that are next to a space and joining them with replacement teeth thus bridging the gap. These restorations are strong, beautiful, are cemented to your teeth with a very long lifespan if cared for properly.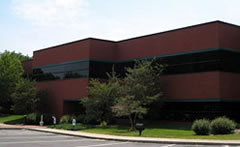 Joseph Tutor, DDS
West Taft Medical Center
4820 West Taft Road, Suite 101
Liverpool, NY 13088
Get Directions »
T: (315) 451-4900
F: (315) 451-6192
Office Hours:
M - Th 8:00 a.m. to 4:30 p.m.
Summer Hours (June-August):
M - F 7:00 a.m. to 2:00 p.m.
Request an
Appointment