Sleep Apnea
Sleep apnea is a serious condition in which air flow is restricted or obstructed usually during sleep. When airflow is decreased less oxygen reaches the bloodstream and vital organs. The results can be exhaustion during the daytime, memory loss and learning problems. Apnea has been more seriously linked to increased risk of stroke and cardiac arrest. CPAP machines are the primary and usual therapy for apnea but only 20% of patients can tolerate them. For those who can't there are oral appliances that the dentist can custom fabricate. These less cumbersome devices open your airway be advancing your jaw forward as in rescue breathing. A proper sleep study before and after are required and may be arranged through your primary health provider. The absence of snoring may even save your marriage or your life.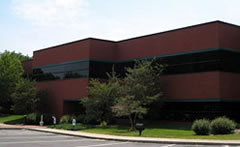 Joseph Tutor, DDS
West Taft Medical Center
4820 West Taft Road, Suite 101
Liverpool, NY 13088
Get Directions »
T: (315) 451-4900
F: (315) 451-6192
Office Hours:
M - Th 8:00 a.m. to 4:30 p.m.
Summer Hours (June-August):
M - F 7:00 a.m. to 2:00 p.m.
Request an
Appointment